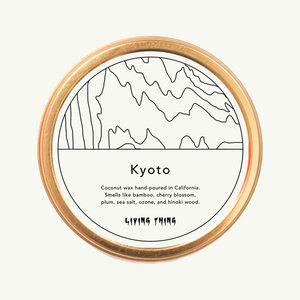 Living Thing - Kyoto Travel Candle
Living Thing
Regular price $17.00 Sale
* AVAILABLE NOW *
Bamboo, Cherry Blossom & Hinoki. 
Inspired by an adventure through Kyoto Prefecture during a typhoon. This candle smells like exploring bamboo forests during cherry blossom season after a huge storm as dark clouds promising even more rain linger in the air. Though this land is ancient, it's a special feeling to be here as the sun hits it again for the first time renewed.
Details: 
Made in California. 

3.5oz

Burn time approx. 10-15 hours.